FAQS FOR CALIFORNIA HOMEOWNERS INSURANCE
What is in a standard homeowners insurance policy?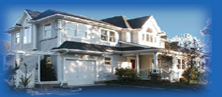 A standard homeowner's insurance policy includes four essential types of coverage.
They include:
Coverage for the structure of your home.
Coverage for your personal belongings.
Liability protection.
Additional living expenses in the event you are temporarily unable to live in your home because of a fire or other insured disaster.
Are there different types of homeowners policies?
Yes. A person who owns his or her home would have a different policy from someone who rents. Policies also differ on the amount of insurance coverage provided.
The different types of homeowners' policies are fairly standard throughout the country. However, individual states and companies may offer policies that are slightly different or go by other names such as "standard" or "deluxe".
What type of insurance do I need for a co-op or condo?
If you have purchased a condo or co-op, the bank will require insurance to protect its investment in your home. You may, however, need more insurance to cover your personal items, liability or fees that may be charged to you regarding shared areas of the building like the lobby.
You will need two separate policies to protect your investment:
Your own insurance policy.
This provides coverage for your personal possessions, structural improvements to your apartment and additional living expenses if you are the victim of fire, theft or other disaster listed in your policy. You also get liability protection.
A "master policy" provided by the condo/co-op board.
This covers the common areas you share with others in your building like the roof, basement, elevator, boiler and walkways for both liability and physical damage.
Can I own a home without homeowners insurance?
Unlike driving a car, you can legally own a home without homeowners insurance. But, if you have bought your home and financed the purchase with a mortgage, your lender will most likely require you to get homeowners insurance coverage. That's because lenders need to protect their investment in your home in case your house burns down or is badly damaged by a storm, tornado or other disaster. If you live in an area likely to flood, the bank will also require you to purchase flood insurance. Some financial institutions may also require earthquake coverage if you live in a region vulnerable to earthquakes. If you buy a co-op or condominium, your board will probably require you to buy homeowners insurance.
How do I take a home inventory and why?
Would you be able to remember all the possessions you've accumulated over the years if they were destroyed by a fire? Having an up-to-date home inventory will help you get your insurance claim settled faster, verify losses for your income tax return and help you purchase the correct amount of insurance.
Start by making a list of your possessions, describing each item and noting where you bought it and its make and model. Clip to your list any sales receipts, purchase contracts, and appraisals you have. For clothing, count the items you own by category -- pants, coats, shoes, for example –- making notes about those that are especially valuable. For major appliance and electronic equipment, record their serial numbers usually found on the back or bottom.


Homeowner insurance free quotes
Call Toll Free (800)-808-2695
Contact Us
All Access Insurance Services, LLC
2216 El Camino Real #209
Oceanside, California 92054

Toll Free (800)-808-2695
State Insurance License # 0D69251